Pisa area
8
3 double bedrooms and 1 twin bedroom
2 en-suite+ 1
BOOK NOW
Overview
Rates
About Pisa area
Overview
Wonderful holiday villa for rent with a panoramic view, personal garden, barbecue area, and swimming pool, Villa Milva
Immersed in the isolated quietness of the Tuscan hills just 10 Km from the sea. The holiday house consists of two floors and accommodates a total of 8. The ground floor has a wonderful totally furnished and modern kitchen (fridge, dishwasher, stove with oven, microwave, toaster), a lounge room complete with LCD television, DVD, stereo and a double bedroom with bathroom (shower). The first floor has 2 double bedrooms, both with en suite bathroom and 1 twin bedroom with bathroom. There is insect protection on all windows. Rustic country furniture and finishing tasteful accents show a Ground Floor:
1 Double Bedroom
1 Bathroom
Kitchen with fireplace
Living Room
First Floor:
2 Double Bedrooms with en suite bathroom
1 Bedroom with 2 bedsspecial, elegant, country effect to life on a farm
without renouncing to daily comforts. The patio is fresh and in shade with a comfortable outdoor table for 10, barbecue area and swimming pool, certainly the heart place of summer.
Details
Ground Floor: 1 Double Bedroom 1 Bathroom Kitchen with fireplace Living Room First Floor: 2 Double Bedrooms with en suite bathroom 1 Bedroom with 2 beds
Equipment
– Washing Machine – Clothes Dryer – Vacuum Cleaner – Dishwasher – Oven – Microwave Oven – Food Processor – Espresso Coffee Machine – American Coffee Perculator – Toaster – Refrigerator – Satellite LCD TV – Mini Stereo – DVD – Solarium Swimming pool – Garden Furniture – Sun Bed & Deckchair – BBQ – Outside Shower – Parking – Mosquito Nets
The prices include
Quote for gas + electricity: 5% of the total rental rate. Over this amount, the cost per kw/h will be calculated based on the market price at that moment.
WI-FI
Linen and bath towels for 1 week
Extra cost
Extra Linen (towels and bed) per person € 10,00
Extra towels per person (shower, face, and hand) € 5,00
Extra single normal bed included linen and a towel set, weekly price € 140,00
Extra folding bed for kids 4-8 YO, including bed linen and a towel set, price x week € 80,00
Crib or bebè bed  1 free
Extra Crib or bebè bed, weekly price € 50,00
High chair 1 free
Extra high chair *, weekly price € 30,00
Rent pool/beach towel (weekly price x towel) € 5,00
Final Cleaning (weekly price) –  The disposal of waste is not included in the final cleaning fee. 290,00
Air Conditioning ( The machine is switched on just upon client request, not compulsory) energy Consumption
Security deposit, cash or valid Credit card € 500,00
Extra Boxes of wood ( 1 x villa included), price x box at a Market price at the time of the stay
The fee to pay in case the rubbish is left at the villa at the end of the stay € 150,00
Dog fee, weekly price, price x dog (limited number so please ask in case of more than 2 dogs) € 50,00
Daily pick up rubbish service, weekly price € 70,00
Good to know
Swimming pool Fence
Security deposit, EURO cash, or Credit Card € 500,00 (A different amount could be asked in case of a long holiday or in other particular cases established by the property)
WATER CONSUMPTION: In case of water problems in the area a limit of water consumption considered included could be fixed. Over this limit, the consumption will be an extra cost to be paid at the end of the holiday period at the price of 5,00 €/m3. We will calculate a sufficient amount of water to cover normal consumption for a normal holiday stay. This is to avoid water wastage.
CLEANING: the final period cleaning is compulsory. In case of stays longer than 1 week the other cleanings are not compulsory but upon request.
SWIMMING POOL: swimming pool is closed in the mid-low season. It could be sometimes opened and an extra fee will be asked. Preventive just upon request. The eventual heating is always extra and switched on upon request. It's necessary a notice at least 3 weeks prior to the arrival date to open or to heat the swimming pools. Services are not available for last-minute bookings ( less than 3 weeks before arrival).
The above prices are referred to the use of the villa as holiday house accommodation. In the case of different uses, including event use, the price will be personalized.
Distances
1 hr 47 min (127.0 km) Florence
1 hr 11 min (94.0 km) Lucca
1 hr 41 min (90.6 km) Siena
1 hr 44 min (149.6 km) Montalcino
1 hr 20 min (67.4 km) San Gimignano
55 min (64.7 km) Pisa
3 hr 14 min (289.6 km) Roma
2 hr 5 min (171.2 km) Levanto ( le Cinque Terre)
View more villas on...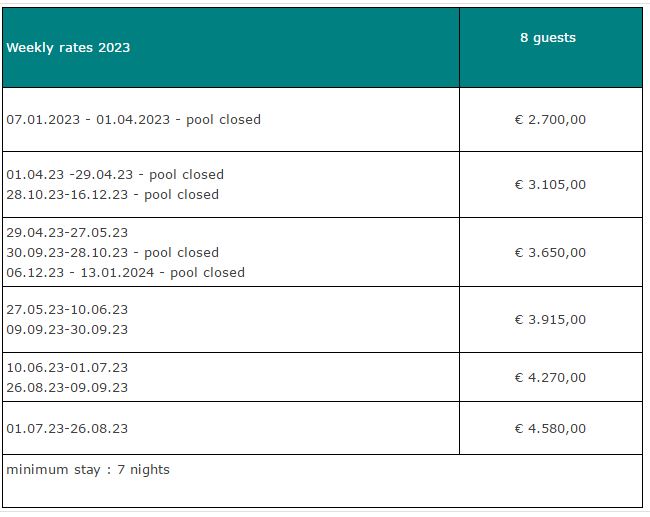 The villa is very near to all the bigger Tuscan cities, that are famous for their ancient and artistic monuments and from the cultural point of view: so in 1 hour, 1 hour and a half You can arrive in Florence, Pisa, Volterra, San Gimignano, Siena, Lucca, Arezzo, etc. Leisure Activities in the area Jogging / Trekking / Horse Trekking with professional riders and instructors / Mountain Bike / Tennis / Surf, Windsurf e Kitesurf in all-equipped centers or school / Sailing on dinghy or catamaran / One day trip to the most important Tuscan islands / Exclusive opportunities for fishing  / Eno gastronomic tours / Organized tours to the main artistic Tuscan cities