South Tuscany
14
7 double bedrooms
5 en-suite+ 2
Medium staff
Pet friendly on request
BOOK NOW
Overview
Rates
About South Tuscany
Overview
Villa Jelli is a luxury medium-staff villa for rent in South Tuscany. The estate, where Villa Jelli has been located since the end of the 1800s, was a wasteland but the family of origin of the owners decided to turn it into a dreamland.
Thus lakes, stables, and the tennis court were created. A property of unique beauty! Villa Jelli, this wonderful villa for a holiday in Tuscany, has 7 bedrooms, an interior space of 800 square meters, and is immersed in a vast estate of 1,200 hectares. This marvelous villa in the heart of the Maremma is an elegant, welcoming, and welcoming place suitable for a holiday with friends or for a family reunion in every season of the year.
The interiors, with their finely matched colors, their details, and their sophisticated furnishings and details of oriental inspiration, are ideal for those who, even on vacation, do not want to abandon a certain type of charm to which they are accustomed. A series of interesting leisure activities are available: sports, culinary and cultural seminars during periods dedicated to the year, bicycle tours, trekking, yoga, tennis, and horse riding workshops
Details
Swimming pool and fully equipped pool house with steam room
Poolside alfresco dining area
6 double bedrooms
(4 with ensuite bathrooms, 2 sharing a bathroom)
1 double volume living room including library, with fireplace
1 dining room, with fireplace
1 study (with PC and fax machine)
1 leisure/TV viewing room
1 service room (for outdoor clothes/boots etc).
1 double bedroom with ensuite bathroom
1 open space sitting room with kitchenette on a side.
1 changing room with shower
Equipment
Air conditioning 
in bedrooms only
3 safes (1 in annex apartment)
1 and ½ hectare total grounds
The prices include
• Electricity, A/C, heating, water, and final cleaning
• Housekeeping service for up to 8 hours per day; Sunday from 8:30 am–12:30 pm
• Welcome dinner (wine not included)
• Daily service for breakfast (cost of food and drinks extra)
• Water Cooler available for guests
• High-Speed Internet connection
• Access to private Golf Club & Use of tennis court
Extra cost
• Security deposit: €3,000 to be held at the agency by CC guarantee.
• Cook service, per meal, as follows – meals have to be ordered at least 24 hours in advance:
€160 fee for a 3-course dinner (7:00-9:00 pm) – the cost of food and wine extra. (for Sundays dinner there will be a supplement of 50€)
€120 fee for lunch (12:30-2:30 pm) – the cost of food and wine extra. (for Sundays lunch there will be a supplement of 50€)
• Personal laundry & ironing service: €15 per hour (20 euros Sunday or evening)
• Babysitting service, upon availability: €17 per hour/babysitter (up to 3 children/ per babysitter) (25 euros Sunday or evening)
• Telephone charges extra
• Late check-in charges: €50 for arrivals until 10pm; € 100 for arrivals after 10pm
Good to know
• Swimming pool open from May 15 to October 15
• Security deposit: €3,000 to be held at the agency by CC guarantee.
• Check-in: between 4:00 pm –7:00 pm – Check-out: before/by 10:00 am
• Pets accepted at the owner's discretion
Distances
20 minutes from Scarlino
30 minutes from the beaches of Punta Ala or Castiglione della Pescaia
40 minutes from Siena
1 hour and 30 minutes from Florence
20 minutes from Grosseto
View more villas on...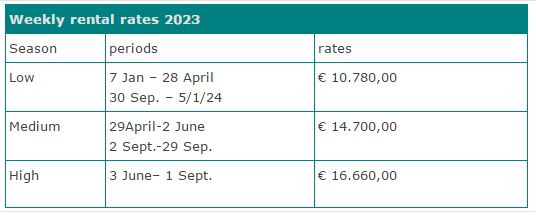 Discount
5%-2wks
10%-3wks
15%-4 wks