Siena area
26/32
12 double bedrooms+ 1 twin bedroom in main house- 3 double bedrooms in annex
16 en-suite
Ideal for large groups
3 double king-size beds
BOOK NOW
Overview
Rates
About Siena area
Overview
The villa has 13 bedrooms, furnished with extreme elegance and each with different colors and decorations, which can accommodate up to a maximum of 25 people, and the villa is rented to spend your stays, for weddings, business meetings, and film events.
In the garden, next to the corner bar, we find a large swimming pool equipped with sun loungers, with an enchanting view of the Tuscan countryside.
Details
The interiors of the villa are treated in detail with spacious living rooms and three adjoining dining rooms furnished with tables and elegant services.
Spacious and full of light that filters through the many windows, the living rooms of Villa Ingham, this wonderful historical Tuscan residence ideal for renting, preserve intact the magic and charm of the past.
Elegant evenings lit by candlelight, tables set under the stars, spacious lounges, dining rooms with stunning views of the Sienese hills will be the ideal setting to organize your parties and events and spend a wonderful holiday in the heart of Tuscany.
A large and spacious kitchen equipped with professional equipment, suitable for cooking classes, is reserved for the staff of the Villa.
Equipment
Air conditioning | Satellite TV | DVD player | IPod Dock | Billiard Room | Telephone | Wi-Fi | Gym | Electricity consumption | Welcome dinner | Twice a week change of linen
The prices include
Welcome dinner 
Daily breakfast (Bread, Butter, Jam, Honey, Eggs, Yogurt, Juice, Coffee, Tea, Milk)
Concierge service
Bed linen and bathroom towel are changed twice a  week, Saturday and Wednesday.
Electricity / AC until the consummation of 2.000 KW  
Gas for hot water
Internet connection
Pool towels  (up to 40 towels weekly ).
Final cleaning
PERSONNEL INCLUDED:
A director who speaks 4 languages, four waiters and a gardener. Service staff for six days.
INCLUDED staff SERVICES :
1 manager,  4  maids /waiters, 6 days a week (1 day off during the week )  up to 25 people.
Maids can work on the day off at the price of euro 50,00 each Morning    8,30  am –  1 pm
Afternoon       4 pm –   8 pm
(cleaning the living areas + bedrooms and bathrooms +outdoor area , swimming pool ,etc)
Extra cost
Security deposit for damages: euro 6.000 to be held with the agency
Telephone and  fax service to be billed to individual rooms. 
Extra Food to be paid in Euro upon presentation of the shopping receipts.
Beverage and wine.
Individual  cleaning and  laundry service.
Gas for heating.
An extra person, one or two, needs to be hired as extra over a number of 25 guests for 8 hours a day at € 15,00 for hour.
Grocery shopping service 50 Euros for each time.
Electricity /AC over the consumption of 2.000 kw per week.
Additional room's change: linen, towel and bed linen euro 18 per room.
Additional pool's towels euro 3 for each towel.
DINNER:
5 course dinner  Euro 45,00 per pax, Euro 55,00 fish menu per pax, for minimum 20 pax, including food, chef with helpers, waiters service at the table and maids to set up the kitchen.  Preferably, dinner should be served at 8,00- 8,30 p.m. Wine and beverage excluded, to be paid separately.
The staff work in the evening up to 10,30 pm; after that time there is extra cost of euro 18 for each hour for each maid/waiter.  
Lunch: upon request at an extra cost to be arranged on site; to book in advance.
Good to know
DEPOSIT:
To pay in advance at the arrive euro 5.000 (euro 4.000 with bank transfer and euro 1.000 cash at the arrive)  for week for food, wine, utilities, etc..
Please note all the extras are taxed an additional 22 % Italian lodging tax, which is not included in the price.
Guests' credit card must be presented on arrival, Villa will place a block on the card for extra over euro 5.000.
We have the service of American Express Credit Cards only.
At the moment of the reservation it is required the copy of the passport of the booking guest.
Security deposit for damages: euro 6.000 to be held with the agency
Booking policies
Payment
50% to be paid at the moment of the booking
50% to be paid 90 days prior to the arrival's
CANCELLATION POLICY :
The deposit will be refunded as follow :
50% of the total deposit will be held if cancellation is made by: seven months before the arrive
100% of the total deposit will be held if cancellations is made by: three months before the arrive.
Distances
6 km Siena, 66 km Florence, 162 km Forte dei Marmi, 121 km Pisa,  25 km San Gimignano, 33 km Volterra.
View more villas on...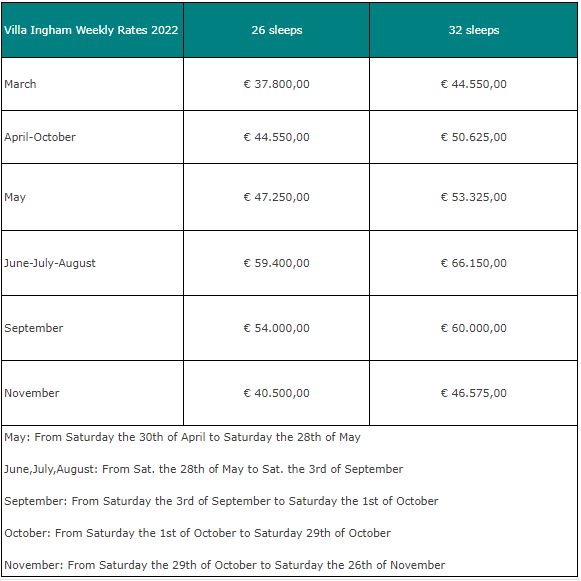 Guided tours in the most important Tuscan cities and wineries – Golf – Bike tours – Music