Positano
16+4 extra beds on request and extra 8 on third floor
8 double bedrooms, 4 extra beds, 4 suites for 8 sleeps
8/12 en-suite - 19 total
Full staff
Ideal for weddings and large group
Pet friendly on request
BOOK NOW
Overview
Rates
About Positano
Overview
Villa D'Andrea is a luxury and top exclusive holiday villa for rent in Positano. It is an enormous historic palace built in 1741. This luxury Villa has sleeps for 16 with 4 doubles on the first floor and 4 doubles on the second one. Villa D'Andrea is a luxury holiday accommodation that gifts to guests terraces with a colonnade. All rooms own big bathroom and wide terrace meeting, of course, the unique standards 5-star luxury holiday.
The villa rental has 4 floors. The main access is from the second floor and guests could also get in the house across a Mediterranean garden full of bougainvilleas, lemon, and orange trees, from which natural juice and homemade marmalades are made and served for breakfast. The second floor opens to a large kitchen. On the same floor, guests will meet a large room perfect for dining, relaxing room, or working room, because there is a computer with all the services( WiFi, Adsl line, fax, mail…) to work in total quietness. In this huge room, there is a big library too complete with old and new books. On the third floor, there are four big suites with large bathrooms. All the holiday luxury villa has lot of terraces, garden with a fantastic panorama towards the beach of Positano. We also give the chance of two persons for the services and one butler.
Details
Sleeping accommodation
28 guests divided as follows: 8 suites for 16 guests + 4 extra beds for 4 guests ( on request) + 4 attic suites for 8 guests ( on request).
All beds are king size beds except the 4 extra beds which are sofa queen
Equipment
Wireless printer, Fully equipped kitchen, Satellite TV 60″ in the living room, Free Wi-Fi in the whole Villa, Pool.
Bedrooms facilities
Private bathroom, Minibar, Hairdryer, Safety box, Air conditioning, Heating, Wi-Fi.
The prices include
– Utilities (electricity, water, heating, gas, air conditioning, final cleaning);
– Wi-Fi in the whole building;
– Music sound system;
– Minibar in all the rooms beverages charged on consumption;
– Safety box in all the rooms;
– Courtesy kit (bath soap, shampoo, hair conditioner, soap bar, body cream);
– Daily change of linen and bath towels;
– Morning daily cleaning;
– Pool cleaning & pool towels;
– Gardening;
– Staff 8 hours per day (cook & waiter service for the breakfast and on other meal on the choice between lunch and dinner; maid from 7h30 am till 4h30 pm) extra hours € 35 per person per hour;
– Laundry service: underwear included, extra laundry €35 per load (10 pieces);
– Continental breakfast;
– Welcome dinner (for a stay of minimum 1 week);
– Cooking class (for a stay of minimum 1 week);
– Porter service: (included 1 luggage only per person) on the day of the arrival is included from 4:00 pm till 6:00 pm. Before and after the indicated time or on Sunday or for any extra luggage the cost will be on the guest's charge. Porter service (included 1 luggage only per person) on the day of the departure from 8:00 am till 10:00 am;
Extra cost
– Food & beverage: a CASH deposit of € 3.000 will be asked at the arrival and it will be used during the stay for the daily grocery. At the end of the stay, the remaining will be returned, or more will be asked if not enough;
– City Tax: € 1,50 per person per day to pay locally cash, children under 10 years old are excluded;
– Parking: the villa does not have private parking, we collaborate with an external provider, the cost is € 30 per day for a regular car and € 50 per day for a van or a bigger car. They provide valet service.
Good to know
Swimming Pool 4,50×8,50, deep 1,30, Event max occupancy 150 guests.
Bed Accommodation: 8 double rooms with bathroom (shower-room) + 4 extra beds (extra bed €50 per night)
Sitting room accommodation: 20/25 guests
Dining room accommodation: 20/25 guests
Toilets 15
EVENTS Maximum occupancy 120 pax
CHILDREN Permitted ( baby-sitter service NOT included)
PETS  With permission
SMOKING Allowed only outside

For additional accommodation,  villa Doria, right next door to Villa D'Andrea, boasts
4 double rooms and 1 single room for 9 guests or up to a maximum of 11 guests with the 2 extra beds.
Check-in during high season is on Saturday from 4:00 pm till 6:00 pm;
Check-out during high season is on Saturday from 8:00 am till 10:00 am;
Payment accepted: wire transfer. In order to confirm the booking the villa asks for a 30% deposit to pay within 10 days from the confirmation, the remaining 70% is to be paid within 60 days prior to the arrival.
Cancellation policy: in the event of cancellation on the part of the client, the following cancellation policies will apply:
• the 30% paid in advance won't be refundable;
• within 4 months from the guest's arrival a 10% of the total balance must be paid;
• within 3 months from the guest's arrival a 20% of the total balance must be paid;
• within 2 months the total balance will be asked and the total amount of the stay won't be refundable, the same will be for the last-minute bookings.
Distances
Sorrento 18 km
Napoli 60 km
Amalfi 19 km
Ravello 8 km
Praiano 10 km
View more villas on...
RATES 2023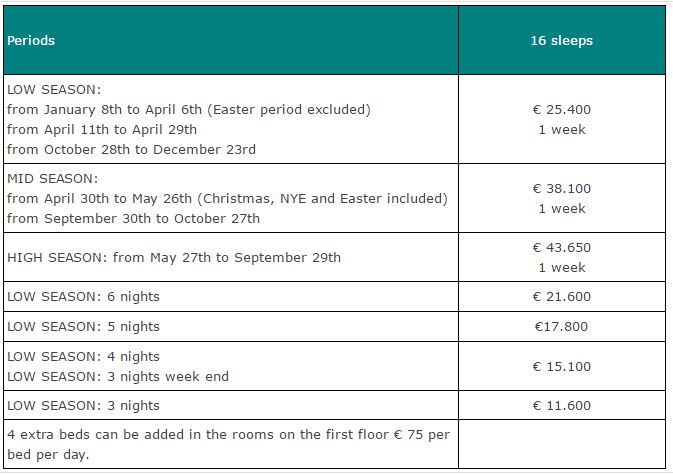 One of the most exclusive villas, a symbol of Positano itself, Villa D'Andrea was built by wealthy merchants who were looking for a sumptuous place that represented their economic power to discuss business and from where to observe their fleets from the sea.
Today this historic villa in Positano, the ideal place for a luxury holiday, has been renovated and offers itself as a top exclusive home for holidays or exclusive events. In fact, the entire Villa, for a total of 28 guests, can be reserved for weddings and other private events.